Maritim21 Confirms the Cluster's New Blue Deal Strategy
– We are very pleased to see that the government share our ideas for the future of the maritime industry, says Daniel Garden, head of GCE Blue Maritime Cluster, about the handover of Maritim21 strategy.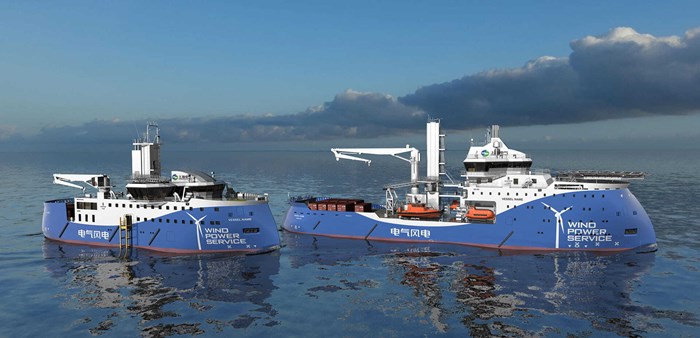 Picture: Ulstein Design & Solutions recently recevied an order for the design of two SOVs for Shanghai Electric.
GCE Blue Maritime Cluster applauds the delivery of the strategy and identifies a significant overlap of ideas and proposals set out in our own new strategy launched in summer 2020. 
– Put together by our Board and experienced professionals from across our value chain, 'New Blue Deal – the road to an emission-free maritime industry' also aims to enhance the global competitiveness of our cluster companies and their agility to seize new opportunities heralded by the energy transition, comments Daniel Garden. 
While we have been busy supporting members address financial and operational challenges bought about by the pandemic, we are at the same time thinking ahead and laying solid foundations for the future. Our objective is to become the world's first net-zero maritime cluster responsible for developing, designing, building, equipping and operating the zero-emission vessels of tomorrow.
Government support is extremely important as we develop new solutions to increase energy efficiency in shipping and the pipeline for new low-carbon and zero-carbon fuels.
Cluster chairman, Njål Sævik of Havila Shipping, has also seen the intersecting views between the cluster and the Norwegian government in Maritim21 strategy. 
Governmental study
The common ideas makes Ålesund-based GCE (Global Centre of Excellence) Blue Maritime Cluster is very encouraged by the contents of the Maritim21 strategy document handed over 27 January to Minister of Fisheries and Ocean Policy Bjørnar Selnes Skjæran.
The study was commissioned last year and has been prepared by the Norwegian Research Council. Its insights will form the basis for an upcoming government package that Skjæran says will support the green transformation of shipping, helping to reduce emissions, create jobs and further develop Norway's unique maritime value chain. 
Collaboration is key 
Maritim21 rests on the ambition that Norway will continue to be a world-leading maritime nation in 2030 by taking a leading, offensive position in the green shift. Key to achieving this will be bringing regional and local authorities, funding institutions, companies, trade associations and research academia closer together to stimulate innovation and both national and international collaboration and lowering barriers to implementation of sustainable solutions.
The study details that a strong focus on research and development will contribute to sustainable growth and increased competitiveness and exports from the country's maritime sector, particularly in green technology and digital solutions (Maritime 4.0).
Shared vision 
– Reducing emissions is one of the biggest challenges that our industry, and society, has ever faced. But I am confident we have the collective expertise to find good solutions. New Blue Deal gets right to the heart of Maritim21, which mirrors our own agenda on a national scale. Given the many commonalities, it confirms we are thinking and moving in the right direction, Njål Sævik explains. 
Daniel Garden states that it is encouraging that Maritim21 will put government policy makers on the same page. 
Beyond Covid 
– Based on Maritim21, we eagerly anticipate the new maritime package from Oslo in the near future, especially as we emerge from the pandemic and get used to a new normal. We have faced crises before and emerged stronger, and we will do it again this time. These strategies at national and cluster level are hugely valuable in mapping the road towards a revitalised maritime industry that is fit for the future, says Sævik.