Our Clear Goal to be the World's First Net-zero Maritime Cluster
New BLUE Deal is all about throwing the world's biggest challenge at the 14,000 maritime professionals in the Norwegian maritime cluster, and make it into a business success.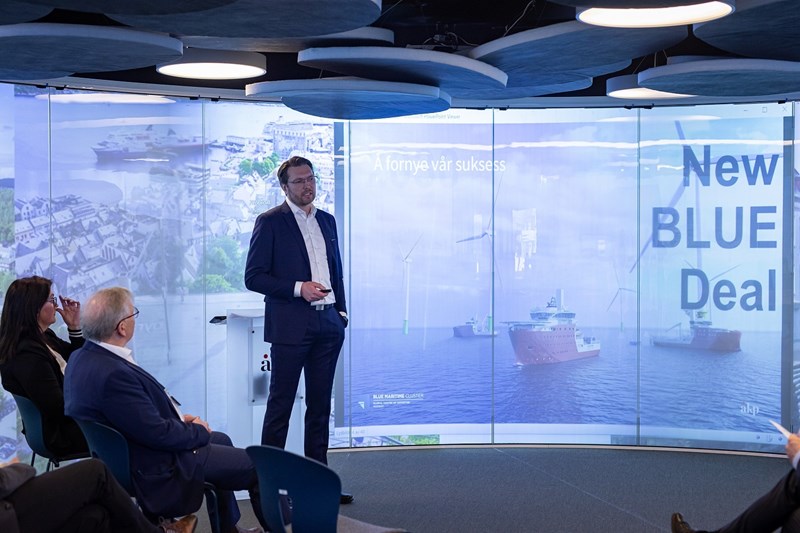 Photo: Cluster CEO Daniel Garden presenting the new strategy.
GCE Blue Maritime Cluster is Norway's largest industrial cluster and represents the country's highly internationalized shipbuilding and shipping industry. Our 200 member companies employ 14,000 people with combined annual revenues of NOK 50 billion. 
"GCE Blue Maritime Cluster is a brilliant enabler for Norwegian maritime companies competing on the global stage. By providing a dynamic arena for innovation alongside national authorities, research institutions, banks and entrepreneurs, we can focus our minds on solving the challenges to make shipping more sustainable," said GCE BLUE Maritime Cluster CEO Daniel Garden. He adds that the green shift already underway will radically transform the maritime industry globally. "Everyone will have to adapt and develop new business models to comply with ever-stricter environmental regulations, while harnessing the power of advanced technologies to enhance performance both at sea and ashore. We are meeting this 'sea change' head on while striving to enhance and maintain the global competitiveness of our members," he said.
Definitive strategy
GCE Blue Maritime Cluster fully supports the objectives of the Paris Agreement and is committed to ensuring the maritime industry is a key contributor of solutions to combat the climate crisis. The cluster's forward-looking strategy, 'New Blue Deal – the road to a net-zero maritime cluster' (NBD), launched in June 2021, is serving as the compass. 
"Our main ambition is to position our members robustly at the forefront of innovations to make the industry emissions-free as we head towards 2030. As the world's first net-zero maritime cluster we want to develop, design, build, equip and operate the zero-emissions vessels of the future. Our three core NBD working groups – the market group, technology group and the supply chain group – will plot the course ahead through concrete projects," Garden said.
Programme objectives
The mission of the Green Newbuilding Programme is to develop full-scale zero-emission vessels that can be put directly into commercial operation. The Green Conversion Programme will focus on retrofitting emission-free propulsion systems in the existing fleet while establishing circular value chains for dismantling ships unsuited for conversion.
The focus is on ship types with global potential but in sectors where Norway has a head start. These comprise ocean-based energy (petroleum, offshore wind, etc), ocean-based food (aquaculture and fisheries) and ocean-based travel (cruise, ropax, roro, etc).
Enquiry and action
Questions the groups are considering include identifying key challenges, what zero-emission solutions are viable, which cluster members should participate in projects and their responsibilities, project mechanics and submitting applications for funding.
"Through ongoing 'idea labs' we are collaborating with our members to brainstorm new angles to markets and solutions, identify potential customers and align external partners and competence environments. We are also forgingclose links with authorities both in Norway and the EU in the pre-commercial stage of projects," said Garden.
The world-heritage Geirangerfjord on Norway's west coast, which will be emissions-free from 2026 as strict government regulations on ship traffic come into force, will act as the testing ground for a new generation of zero-emission, fully connected vessels. 
Full steam ahead
"Making Norway a world-leading maritime nation has taken expertise built up over many generations. That phenomenal experience lives on in our cluster. We've succeeded in bouncing back from crises in the past, and I'm fully confident we will do that again as we put the pandemic behind us. With NBD firmly in place, getting to net zero is going to be an exciting journey," Garden said.
Read the NBD strategy document available in English and Norwegian.